Save A Lot
Frequently Asked Questions
What is Save a Lot Hauling and Bins?
We are a locally operated company specializing in cleanout, recycling and disposal services. We take away just about anything from electronics and furniture to construction and yard debris. We recycle and donate a majority of what we collect.
What are your operating hours?
We offer same-day service, 24/7.
How do you price?
We price based on the space your load takes up in the truck. For particularly labour-intensive or heavy jobs, certain surcharges may apply. We'll give you a clear, all-inclusive estimate before we get started, with no obligations.
Can you give me a price before you arrive?
Sure, we can give you a general idea. If you upload some pictures, we can give you a definite quote. We're always glad to drop by and give you a free estimate.
Do I have to wait around all day?
No, we promise to arrive within a 2-hour window and call you a half hour before we do so. If your items are outside we can even give you a quote and take your payment over the phone or online.
What types of items can you remove?
We take just about anything (old furniture, landscaping waste, appliances, metal, drywall, garbage, wood, construction debris, concrete, electronics, computers, printers, yard waste…) from just about anywhere. We can also make special arrangements to transport most hazardous or toxic materials, these include accelerants, pesticides and herbicides, paint and solvents and other chemicals. Please call to inquire.
Do I need to move my stuff to the curb? Should I pack it?
Not at all. Our professional crew will pick it up for you, wherever it is located. We do all the sorting and packing for you. We make sure to leave the place spotless when we're done too. Are you insured & licensed? We are fully licensed and insured.
How big are your standard trucks?
The interior dimensions of our standard trucks are 4 feet tall, 8 feet wide and 12 feet deep. That's 12 cubic yards of space!
Do you have the proper tools and equipment?
We come prepared with the right equipment: shovels, rakes, brooms, shop vac, dollies, bins, wheelbarrow, tools and saws along with the necessary safety items.
Do you REALLY recycle and donate what you collect?
Absolutely. It's part of our philosophy as a company and as individuals. We go the extra mile to make sure every last bit of recyclable material is processed properly and every denotable item finds a new home. If you like, for a small fee, we can even provide receipts and written confirmation that your material was destroyed/recycled/donated. For any items that are sold, a portion of the proceeds are contributed to local community organizations.
Where do you recycle and donate?
We begin by sorting materials at our in-house compound and storage facility. We in turn recycle with local processing centers. Most of the denotable items are given to local non-profit organizations and charities.
What kind of payment do you accept?
We accept Visa, MasterCard, Debit, cash, cheques and e-transfers.
How do I schedule an appointment?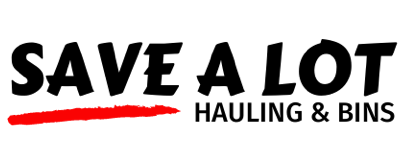 What our Clients are Saying

This company has gone above and beyond and surpassed my expectations when it came to providing support with my junk removal needs. Very affordable and accommodating and excellent service!! Highly Recommended!
Save a Lot Hauling is awesome. Figured out a time to come over super quickly. The team showed up right on time, got the job done much faster than I would have thought and were very fair in their pricing. Save yourself some trouble and give these guys a call!
Needed a bin asap. Called and got one same day. Matt and Brad customer service is amazing and the price is the cheapest in town. Nice bin, good size and not all banged up. Highly recommended to everyone needing a quality bin service.
Save a Lot
Hauling and Bins
Serving the areas of: Colwood, Cordova Bay, Esquimalt, Fairfield, Highlands, James Bay, Langford, Metchosin, North Saanich, Oak Bay, Sidney, Saanich, Victoria, View Royal, West Saanich